Things To Do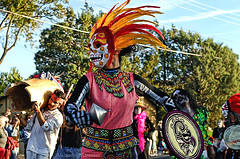 Mayan Ruins
One of the main attractions in Guatemala are the Mayan Ruins located in the city of Tikal. The ruins once served as the capital of the vast Mayan empire. Today, they are a popular tourist destination. The Mayan ruins at Tikal area great way to spend a day or two of exploring. There are a number of tours, day trips, and overnight trips to the ruins and surrounding area.
>>more information on Mayan Ruins
Climbing a Volcano
There are two claimable volcanoes located in Guatemala. The Tajumulco Volcano is the highest volcano and Central America. Surprisingly enough though, the Tajumulco Volcano is only moderately difficult to climb. If you are looking for a little more of a challenge, you can check out the Tolimán Volcano. If you want something very unique, climb Hunapu and you can sleep in a refugee located inside the crater.
Festivals
If you are in Guatemala during November 1st, you are in for a treat. November 1st marks the Day of the Dead or All Souls Day in which Guatemalans celebrated departed loved ones. This festival is full of ghoulish treats and plenty of visual stimulation's. Graveyards are decorated with an abundance of flowers, skulls, skeletons, and more.
Beaches
Guatemala is known for a lot of things, unfortunately, beaches aren't one of them. The East coast of Guatemala is small and offers little in the way of coast line and beaches. The Pacific coast offers a number black sand beaches which offer a nice change of scenery from the rest of the country. Beaches on the Pacific Coast can be rough at times, so expect a wicked rip tide in some places.
>>more information on Guatemala beaches